Carbide rotary burrs can be used to machine cast iron, cast steel, carbon steel, alloy steel, stainless steel, hardened steel, copper and aluminum. Significantly reduce heavy physical labor and reduce Cost of production.
Tungsten carbide rotary burr is an indispensable and advanced tool for fitters and molders. Its feature is that it does not have dust pollution in place of a small shank wheel, and its service life is equivalent to several hundred shanks.
Small grinding wheel. With the characteristics of convenience, ease of use, safety and reliability, today Xiao Bian has talked about the specification, precautions, and main use of carbide rotary burrs for everyone.
Carbide rotary burrs specifications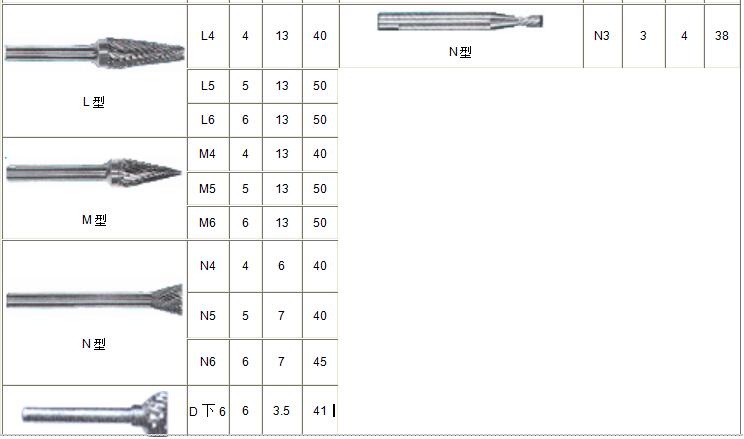 Carbide rotary boring use matters needing attention
(I) Rotary crucible correct operation method
1. Before operation, please read the use of speed to select the appropriate speed range (please refer to the recommended starting speed conditions). Low speed will affect product life and surface finish
If at the same time, low speed will affect the product's chip evacuation, mechanical chatter and premature wear of the product.
2. choose the appropriate shape, diameter and tooth shape for different processing.
3. choose a suitable electric grinder, and stable performance.
4. The length of the exposed part of the shank clamped in the chuck is up to 10mm. (Excluding long handles, different speeds)
5. before use idling to ensure that the concentricity of the rotary file is good, eccentricity and vibration will cause premature wear and workpiece damage.
6. When using, it is not appropriate to use too much pressure. Too much pressure will reduce the tool's life and use efficiency.
7. Before use, check that the workpiece and the electric grinder are correctly and tightly clamped.
8. Wear suitable protective glasses when using.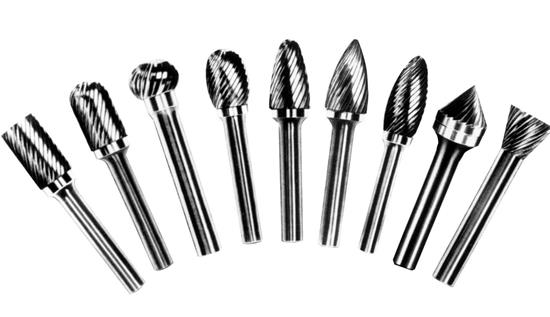 (B) improper operation method
1. the speed exceeds the maximum use speed range.
2. the use of speed is too low.
3. the rotation of the card in the groove, gap use.
4. the use of rotary pressure is too high, the temperature is too high, resulting in the welding part off.
Carbide rotary burrs main use
1. can process a variety of metal materials, but also processing hardened steel ≤ HRC65.
2. It can be used instead of small grinding wheel with handle and no dust pollution.
3. The production efficiency can be improved by several dozen times compared with the normal manual boring tool, and the efficiency can be improved by 3-5 times as compared with the small grinding wheel.
4. tool durability than high-speed steel tools can be increased by ten times, compared with a small grinding wheel durability can also be increased by more than 50 times.
5. can be processed in various shapes of metal mold cavity.
6. clean casting, forging, weldment flash, welds and burrs.
7. hamfering, rounding and groove processing of various mechanical parts.
8. clear the pipeline.
9. finishing of impeller runners.
10. inner hole table of finishing machine parts.